The Versatile Blogger Award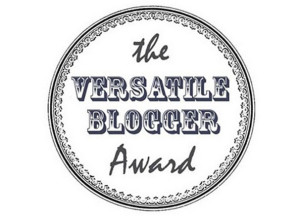 A few days ago, I woke up to find out I had been nominated for another award! However because I was nominated during freshers week at University, I just haven't had the time to sit back and write until now – more about this on my next blog post.
This award is called the Versatile Blogger Award. This award is given to blogs/bloggers who you feel really have covered some unique topics/have a general uniqueness to their blog, have high quality posts, high quality photos, and have touched you or you just really love reading.
So firstly I was nominated by the lovely Kammi at BeautyBookBlog!
So the rules for this award are…
– Display the award on your blog
– Mention/link the lovely people who nominated you
– Nominate another 15 blogs/bloggers who you feel should be given this award
– Inform them you have nominated them
– Write seven facts about yourself
So the 15 blogs I am nominating are…
– Rose at https://www.fashionrhapsody.com
– Elliot at https://studentpolyglot.wordpress.com
– Tim at https://youthworkerintheshire.blogspot.co.uk
– Josh at https://warjekk.com
– Clem at https://clemloves.blogspot.co.uk
– Tasmin at https://wishuponasmile.blogspot.co.uk
– Kayleigh at https://rufflesandrabbits.blogspot.co.uk
– Marissa at https://marsjambelle.blogspot.com
– Shona at https://www.shonaelizabeth.blogspot.co.uk
– Laura at https://www.prettypolishandhappyhearts.blogspot.co.uk
– Nicole at https://sleek-chic.blogspot.co.uk
– Vanessa at https://www.vanessachloesworld.co.uk
– Rachael at https://aisforayla.blogspot.co.uk
– Abraar at https://thedupertech.com
– Fay at https://crafts-crazy.blogspot.co.uk
Okay so 7 facts about myself…
– I am a quarter Irish.
– I can watch any type of horror/gore films but cannot stand paper cuts. Nonono.
– I love Harry Potter. A few days ago I was watching the films and was able to recite the exact words simultaneously. I also joined the Harry Potter society this week!
– I used to be part of 3 waterpolo teams, however now I can't do any exercise to save my life!
– My favourite food is pizza. Give me pizza and I will love you forever.
– Speaking of pizza, I actually eat a lot for such a small person.
– Family is really important to me, and my parents will always be my best friends.
So those are the lovely blogs I nominate for this award!
Hope you have read doing/reading this, and send me a link once you've finished so I can read yours!
Frankie x